Natalia Sergeevna Gontcharova (1881-1962), the greatest modern artist you've never heard of, led an amazing life that spanned continents, decades and artistic movements.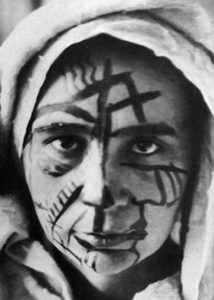 Punk decades before punk rock, and a pre-feminism feminist in pre-revolutionary Russia, the rebellious Gontcharova found fame after being kicked out of art school, arrested for exhibiting nude studies, and feted as co-founder of the city's first radical exhibition group, the Jack of Diamonds.
Born in 1881 to a childhood of relative privilege in rural Russia, Natalia moved to Moscow as a teenager, and studied then embarked on an incredible period of creation, innovation and provocation.
Charges of blasphemy, indecency and impropriety concluded Gontcharova's controversial Moscow career in 1913 alongside the achievement of an immense one-woman show which stretched across almost 800 recently-created, often confrontational works of art. She then departed the country along with her artistic and life partner Mikhail Larionov recognized as being both as the scourge of Moscow high society and the undisputed queen of the Russian avant-garde…
By 1914, Gontcharova was halfway across the world in Paris, helping Sergei Diaghilev install the sets she had been commissioned to design for his Ballets Russes production of Le Coq d'Or. Bold, engaging and fresh, it was work which made her name afresh and established an international reputation.
That success meant that Natalia was still traveling around Europe with Diaghilev, Larionov and the Ballets Russes as global conflict erupted. War led to Revolution back home, and after the war to end all wars was itself ended, Natalia would never again return to Russia. Indeed her native home became a place where her art came to be considered dangerous, and was eventually made formally illegal by the new totalitarian Soviet state.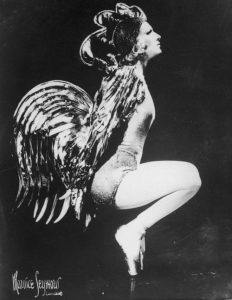 As a now-transplanted resident of Paris (and eventual citizen of France), but frequent cultural contributor to neighboring countries (including Spain, Germany, Italy, Lithuania and England) for the rest of her life, Gontcharova's entire artistic endeavor in the West became subsumed by the Modern Art movement.
Seguing from her audacious stage sets and costumes for the stage into designing fashion for multiple Parisian couture and interior design houses, illustrating books of all kinds, and even staging high-profile (and high society) charity balls, Gontcharova continued to build her professional reputation from her new European home throughout the 1920's and 30's.
With multiple artistic outlets providing paying jobs, and despite sporadic exhibitions of her artworks continuing to be staged around the world, the Paris version of Natalia Gontcharova came to view her art primarily as service. She was motivated to continue painting just for herself, repeating themes and compositions as new tests of style, approach and material, while showing mostly for a select circle of friends and fellow artists, a circle that came to include such famous names as Marc Chagall, Fernand Léger and Pablo Picasso.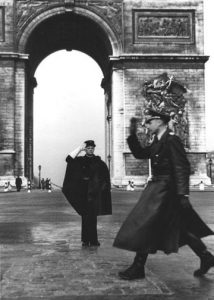 That triumphant period of her Gontcharova's life was ended by the simultaneous destruction of her new home city and career via World War II's Nazi occupation of Paris, and then followed with the further heavy blow struck by the failing heath (and ruinous healthcare costs) incurred by Larionov, still Natalia's partner in both life and work, shortly thereafter.
Artistic re-invigoration came from the launch of Sputnik I in 1957, sparking a late-life surge in which Natalia defied physical frailties to prolifically continue creating art in styles new and old until her eventual death, aged 81, in the Fall of 1962.
Despite Gontcharova's best efforts, her work became scattered to the winds of time. While her life remained rich, and her art rose in stature through a succession of retrospective exhibitions in her final years, Natalia died financially impoverished in the same small Parisian apartment to which she moved in 1919.
She married Larionov late in life in an attempt to preserve her work and legacy, but his subsequent re-marriage to the third element in a long-time triangle, Alexandra Tomilina served to undo most of that effort after the widow Larionov spend decades promoting her husband's work and influence at the expense of her one-time friend/rival.
Time passed, and so did Larionov (in 1964), then Tomilina (in 1987), and eventually even the Iron Curtain (in 1989), and so, slowly – ever so slowly, Natalia Gontcharova's artistic reputation began to emerge from both political and artistic exile. As part of the arrangements of Tomilina's estate, the French and Russian governments became owners of hundreds of artifacts and works by both Larionov and Gontcharova, works which became exhibited and increasingly admired.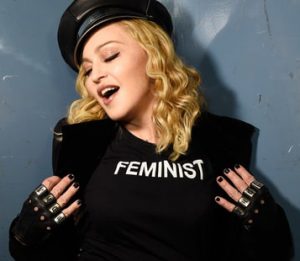 In the early 21st century, Natalia's reputation continued to rise, attracting investment from both a new generation of wealthy Russians, and some famous fans (including Madonna). That moment came to a spectacular head in 2007, when Gontcharova's 1909 painting "Picking Apples" shocked the art world by fetching $9.8M at Christie's, becoming the highest-priced single art sale by a female artist of all time .
A year later, a second Gontcharova painting, "The Flowers" raised the bar once again, selling for a new record price of $10.8M, and continuing to enhance Natalia's reputation amongst the upper echelons of the art world.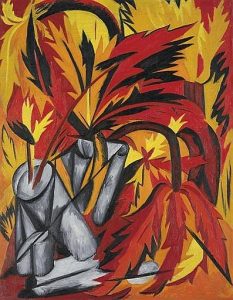 The pair of sales triggered a surge, and over the past decade, approximately 650 additional works by Natalia Gontcharova have sold at auction for a collective total of more than $110M.
Despite that recent financial outburst, Natalia's name has not yet become as well-known as many of her contemporaries, rivals or collaborators and so now, more than 50 years after her death, this site has been launched as a online project intended to share her works with new audiences and to better study, understand and communicate her remarkable life story to the world.
Welcome then, to nataliagontcharova.com – a multimedia resource devoted to the life, work and world of the greatest modern artist you've never heard of… until now.
Not sure where to start? As a possible next step, may we recommend a more detailed year-by-year look at the life of Natalia Gontcharova via the Timeline ?